Letter from the Director
Dear Friends,
Welcome back to FOCIS' 10th Anniversary lecture series, which have named "What in the World is Going On?" We completed Part One of the series in 2017 with programs on immigration, the press and the presidency and race in America.
Part Two of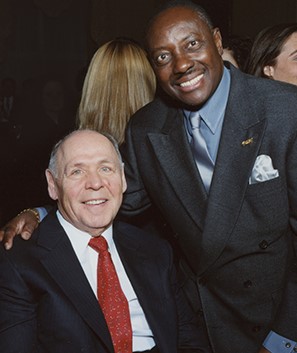 the 10th Anniversary continues under sponsorship of Wayne State University's Applebaum Chair in Community Engagement. We begin these programs in deep sadness over the death of our dear friend and benefactor Eugene A. Applebaum, who passed away on December 17, 2017. He is a loss to us all, his family, the university and city that he so dearly loved. His absence will be felt especially during our FOCIS programs, which he inspired and helped to build over the past decade. 
Our presentations through the Applebaum Family Foundation will end with the completion of Parts Two and Three of FOCIS' 10th Anniversary programs. Part Two includes presentations by feminist and social activist Gloria Steinem on women in the workplace and society as a whole, and by General (Ret.) David Petraeus on terrorism at home and abroad. Our remaining programs promise to be like their predecessors -- stimulating, informative and inspiring. I hope you will join us as we continue this popular and provocative series! Part Three will be a program that takes us beyond Wayne State's first 150 years and focuses on the "Future of Us All," celebrating the Ilitch School of Business' move into its new home. You will hear more about this presentation in the near future.
I am pleased and proud to invite you to join us in this series of timely FOCIS programs as the university celebrate its sesquicentennial year! VISIT OUR CURRENT EVENTS PAGE TO LEARN MORE.
Sincerely,                                                                                                                                      
Irvin D. Reid
Eugene Applebaum Chair in Community Engagement